We take IT security seriously. It's our job to!
We regularly undergo rigorous testing as a business, and are proud to have added to our impressive list of awards, the certification in Cyber Essentials.
What is Cyber Essentials?
Cyber Essentials is a Government backed scheme. To obtain the certification, we had to prove that we have cyber security measures in place for both our own business, and our customers to protect against:
Hacking
Phishing
Password guessing
Confidentiality, integrity and availability of data stored on devices that are connected to the internet
Cyber attacks come in many shapes and sizes, but the vast majority are very basic in nature, carried out by relatively unskilled individuals. They're the digital equivalent of a thief trying your front door to see if it's unlocked.
This certificate gives you, our customers, the peace of mind that the defences and advice provided at Smart Computers aims to protect you against the vast majority of common cyber attacks.
Cyber Essentials and GDPR
The GDPR, launched in May 2018, is a set of regulations, intended to guarantee the privacy of individuals and protection of personal data, within the European Union.
Although the regulation demands that you take appropriate measures to protect the integrity and confidentiality of any personal data you hold, it does not provide a check list of measures for you to take. Instead, it specifies that you must determine your own cyber security approach based on the personal information you hold and the risk to individuals were that information be lost or compromised.
Cyber Essentials can help with this (but is not a solution for all GDPR obligations). The Information Commissioner's Office (ICO), whose job it is to uphold the GDPR in the UK, recommends Cyber Essentials as 'A good starting point' for the cyber security of the IT you rely on to hold and process personal data. Our technical controls will give you a solid base on which you can build your cyber security as appropriate.
You'll find us listed on the the Directory of Organisations who have been awarded Cyber Essentials on their website.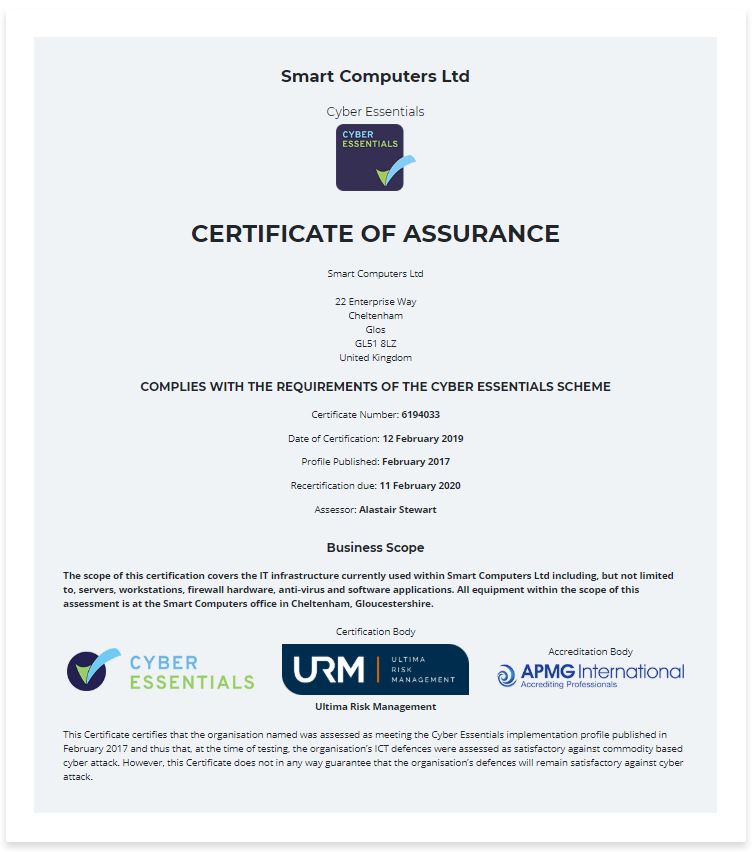 Get the Cyber Essentials Accreditation for your business
At Smart, we provide products, services and guidance that will help our customers become Cyber Essentials certified. We offer a free IT company audit that will highlight any areas where there is room for improvement, and provide you with non biased advice to help you make informed decisions. It's never been more important for businesses who rely on technology, to protect their customer and employee information, in addition to their own. Gaining a Cyber Essentials certificate is a great start to implementing strong and secure cyber security practises.
To find out how we can help you become certified give us a call on 01242 580654.